Pavones, Costa Rica
You've just found paradise and thank you for visiting PavonesCR.com, the most complete online guide and best information source for Pavones, Costa Rica.  Our goal is to provide you with everything you need to know about the area from vacation rentals, Pavones surf, local businesses, real estate, tours, activities, events and more!
If you are planning on traveling to Pavones please take a look at our list of some of the best Pavones Vacation Rentals in the area.  We have a great selection of vacation rentals that will best suite your traveling needs.   Most people don't know that vacation rentals are a better and more cost effective way to travel especially if you are traveling with a small or large group.  You can save money and enjoy the perks of having your own comfortable private estate with a kitchen to cook in, your own private bedrooms and bathrooms, pool, tropical gardens, maid service and more!
Please feel free to contact us to help you plan your entire vacation in Pavones, Costa Rica from arranging the best transportation options (rental cars, regional flights, taxi's, boat taxi's, and public transportation), finding the best accommodations, and activities such as surfing, fishing,  yoga, massage, horseback riding, nature hikes, Spanish classes and everything else Pavones has to offer.
We also have the most complete and up to date Pavones Town Directory.  There are so many great local business here that you should know about.  Whether it's a restaurant, bar, bakery, fish market, café and so on, we don't want you to miss out on a great experience.
Check out our Pavones Blog – Life in Pavones.  There is so much to do and see in Pavones, Costa Rica on a daily basis.  This blog takes you through daily life in Pavones from surfing, meeting the locals, town events, news, flora and fuana to wildlife and more.
Pavones is one of Costa Rica's last true unspoiled paradises, come experience the real Costa Rica!
---
Featured Pavones Vacation Rentals
---
News Article
9/22/12 – World Surf Pavones 2012 – Surf competition set for September 29th, 2012.  Surf, food, music and more!  Benefits go to the Pavones Home School organization.  Read more about the event!
9/6/12 - The Cocal bridge has been fixed!  We are stoked!
8/2/12 – A temporary bridge has been built in Cocal while the main bridge is under construction. Cocal is ten minutes before Pavones.  There are height and width restrictions to cross the bridge…Read More

---
Featured Business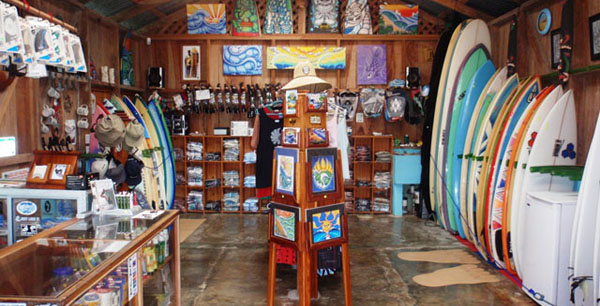 Open: Monday-Sunday
Hours: 8:00am – 4:00pm 
Location: In the town center, next to the soccer field.
Services: Surf boards, surf board rentals, surfing accessories, souvenirs, and more.
Read More